Community Page
Welcome to the Sorrento at Deer Creek Community Page! We hope this page will be a great resource to you for announcements and events at our community.
Royals Fans React to Announcement of Downtown Stadium
While buzz of a change in stadium venues for the Royals has been circulating around Kansas City for years, the team's Chairman and CEO, John Sherman, recently revealed plans for a $2 billion ballpark located in downtown KC. View the letter detailing plans and mixed responses from KC residents here.


Buy a Facial & Get an Eyebrow OR Lip Wax FREE!
From now, until the end of December, if you book a facial, you will receive a Lip OR Eyebrow Wax for FREE!

Please contact Casey to schedule your appointment by calling: 913.486.8646 or Emailing: [email protected]


Sorrento Chili Recipe
We have had so many rave reviews about our Chili served at the Halloween Party, see below for the recipe! We are so glad that it was enjoyed and hope you are able to re-create it in your own kitchens here at Sorrento!

Ingredients
1 lb ground beef
1 envelope chili seasoning mix
1/4 teaspoon pepper
1 10 oz can of diced tomatoes and green chiles
1 15 oz can of ranch style beans (pinto beans in seasoned tomato sauce)
Toppings: shredded cheese, sour cream and sliced green onions to taste
Directions
In a large skillet, cook beef over medium heat until no longer pink, breaking into crumbles, 6-8 minutes; drain.
After meat is drained, add to crock-pot or cooking pot. Stir in chili seasoning envelope, pepper, tomatoes and beans. Set crock-pot on high for 4-5 hours, stirring occassionally. If using a cooking pot, bring to boil and simmer for 10 minutes or until beans are tender.
Serve when completed and add desired toppings.
Things to Do This Weekend November 24th-27th
If you can rouse yourself from your post-holiday nap, there are plenty of exciting things going on in Kansas City this weekend to get you going again! Click here to view the list of activities this weekend, November 24th-25th.


FrameWork OP
The City of Overland Park recently kicked off the process to update the city's comprehensive plan. This effort is named FrameWork OP. An early step of this process includes engagement of members of the Overland Park Community. This is a process focussed on discussing and determining community priorities. Whether it is housing, population growth, neighborhoods, parks and recreation, environmental factors, community services, or local business, this process has a place for residents to share thoughts and ideas. Overland Park is a strong and vibrant community, the City is asking for your help to ensure it remains that way for decades to come.

From now through the end of November, anyone can provide feedback by visiting the website frameworkop.org where you will have the opportunity to give feedback of treasures and barriers in Overland Park. You will even be able to identify areas of the city that you would like to see maintained or grown.


November 2022 Event Calendar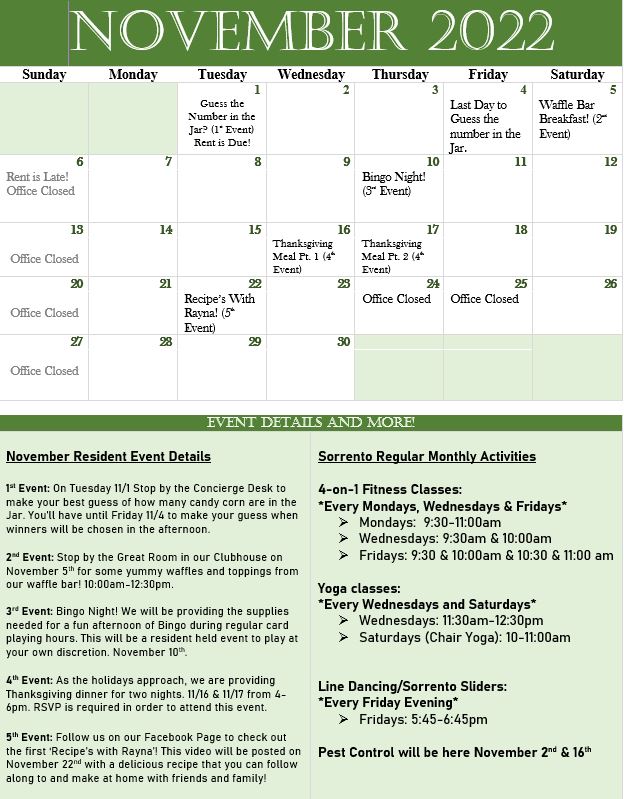 Events
The Sorrento Leasing Office will be closed in honor of Thanksgiving. We appreciate and are thankful for each of our wonderful residents. Enjoy the holiday with your loved ones!
---
Our Leasing Office will continue to be closed to allow our team additional time with loved ones for the Thanksgiving holiday. We will re-open Saturday, November 25th at 10 am.
---
Do you have a mountain of holiday gifts to wrap? Come to the Clubhouse to take advantage of our Gift Wrap Station! We will have everything you need to artfully wrap your holiday gifts, including a wide variety of wrapping paper, boxes, gift bags, tissue paper and bows! This will be set up from Thanksgiving through the end of the year for all of your holiday needs.
---